This is really off topic but hey I am being active.

I came went on a cruise to the Bahamas with my school's band and chorus, so here are some pictures of my trip I'll leave captions so you aren't lost.. haha.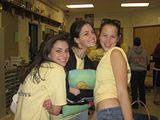 We met up in the band room at 1 pm. My eyes were glued to the clock the entire day. Brenna, moi, FABIENNEEEE!!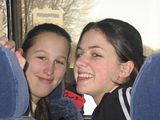 We got on the bus and posed once again.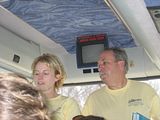 My chaperone, Ms. Boswell, and the lov- Ahem well that's Mr. Simeone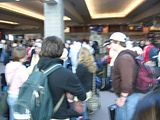 So we arrived in providence and waiting in a long line to check in. finally go through and stuff, my birth certificate decided that it wanted to become a lifelong worker at tito's but fae rescued it. We boarded the plane and went to Orlando.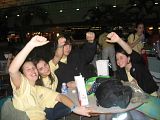 After much talk with ben about getting gators, we finally arrived in Orlando and clogged our arteries with some micky D's and posed for this. Then we boarded the plane for Fort Lauderdale. Purple shirt guys are evil.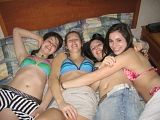 At the hotel in Fort Lauderdale we went in the Jacuzzi but got in trouble we stayed up late talking and we woke up in the morning ate breakfast and had just enough time to take this before we boarded the busses on our way to Miami to get on the SHIP.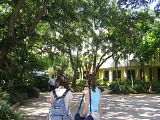 Me and fae walking from the pool area of the hotel to the busses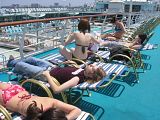 When we boarded we were really sick of our whiteness, so we tanned, (they also wouldn't let us in our rooms yet)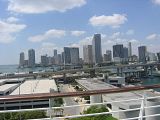 Miami skyline from the boat!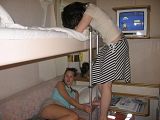 After eating a huge lunch we could get into our room so I tried out my bed and got stuck, Ashley decided to take a picture of me and my troubles.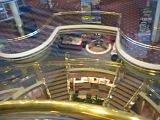 After getting settled we searched the ship this is from the elevator in the main lobby.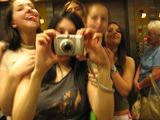 The real elevators were complete with mirrors so 5027 ( My room number/roommates) decided to make faces, well me.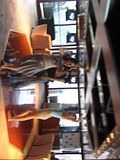 we found the teen night club, that's me dancing, it truly is a scary thing.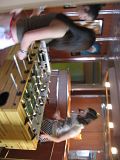 Fooseball bitches! I owned.



Then right next door was this kick ass floor and I wanted to lie down on it then I looked up and woah! A mirror so we took some pictures.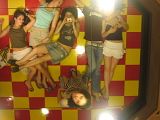 I stood up.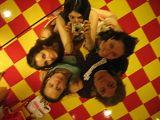 Then they all copied me!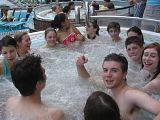 Everyone gathered in the hot tubs, they had competitions on each one. The winning team was like 21 people. As you can tell we all got pretty close. Haha.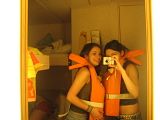 Before the lifeboat drill brenna and Ashley posed in our room.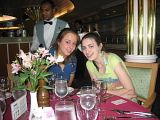 And we ate dinner, which by the way was amazing.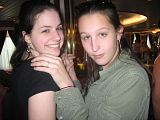 After dinner they did a cute dance and fae and I decided to slow dance.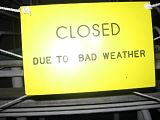 The weather on the ship was crazy, so windy, they put this sign up on the highest deck.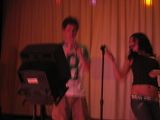 So we went inside and did some karoke, Ashley and tony starring in well I think it was zoot suit riot.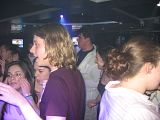 Then we went to the dance club.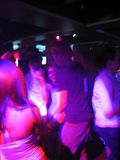 and we danced.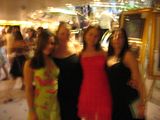 Okay I don't know why I don't have any pictures on the next day, but basically we were supposed to go off the ship but couldn't we went sent straight to Nassau, on the boat there was alotta food eating, mens sexy leg contest, and other crap I just hung out and stuff. I got some sun in. and after wards it was formal night so we got our pretty on this is 5027 in all our glory.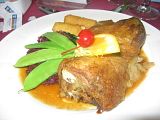 It was French cuisine I had duck. That's the duck.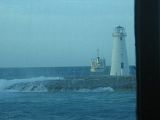 LAND-HO!, arriving in Nassau.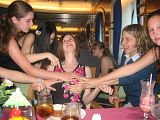 Kelsey was wearing a dress that had pads on it so everyone decided to check out how awesome her padded boobs were, and I snapped a shot. I am in love with this picture.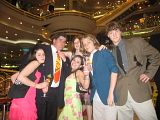 Me, Erik, Kelsey, Brenna, Brian, Paul, leaving the dining room I went to change and stuff into my bathing suit.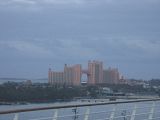 THE ATLANTIS!! We had finally arrived in nassau.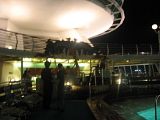 We went in the hot tub I think that is a shot of greg, but the hot tubs rocked so much. We got out a little early and dried off well hardly, then went to karoke! Soaking wet.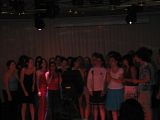 The Bahama mama's, a lot of girls from my school got up and sang kokomo. We did horrible.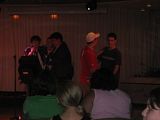 Paul, Sam and Erik sang Bohemian Rhapsody, while Ryan and Jon danced along to it. Hot shit.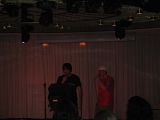 then ryan and ben sang man I feel like a woman, during this jon and greg decided to run around topless. Oh yes… we were crazy haha.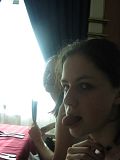 Next day was excursions, no pictures because well, we were not allowed to bring camera's! but I went to the beach and the waves were horrible so we went shopping, after that I went around the boat for a bit then diner again. This is me at dinner.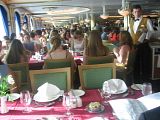 Picture of everyone at dinner. Last night.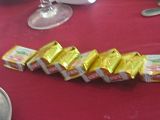 domino butter! We have fun with random objects at the table.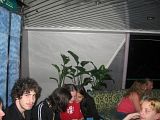 after dinner I got changed and went in the hot tub till about 9 then we went to a meeting about our awards for our preformences earlier that day, while we were waiting Ashley took this shot, that's greg, me ,Meagan, ana, and Arielle.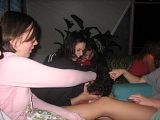 And we attacked greg, I love his hair haha. Then we hung out that night and bought crap and ate gummy bears then went in and I packed my shit in about 5 minutes and threw it out the door.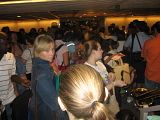 The next morning was crazy this is everyone trying to leave the boat it took forever, but finally we got off, went to FT. Lauderdale, checked in, boarded, went to phila and I got pretzels! Then we went home.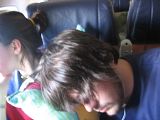 Ben went to bed on me listening to music. I was looking at the ground because I love doing that.




That was my trip I miss it so much and I had the best time oh! And one last thing, for the user info.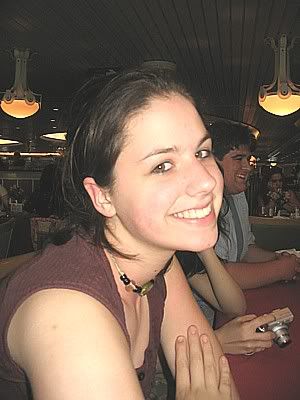 taken at the last dinner.